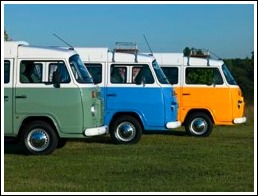 As we prepare for the week ahead and hoping Wilf is enjoying his last evening with his family, we have been looking at how many lucky people have already booked to take one of the Camp in a VDub camper vans on a holiday adventure this year.
We don't want anyone to miss out so we thought you should know that for the remainder of July and August, we have the following 7 night bookings available:
Daisy - 22-29 July; 19-26 August
Patsy - 22-29 July; 29 July to 5 August; 26 August to 2 September
Wilf - 22-29 July
Checking Availability and Booking Online is easy to do.  Just click onto the Availability and Booking page, change the month to the month you would like to book a campervan for.  Then choose your van, click on the Start Date, Friday or Monday (only Friday's available in July or August), select the number of nights (3, 7 or more) and follow the prompts.  
It couldn't be easier !!
If any of that seems daunting then of course you can call us on 0871 234 4331 and we can do the booking for you.