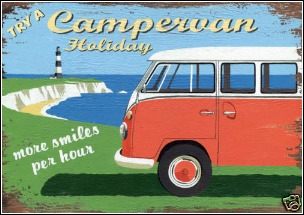 Brian the Snail in Magic Roundabout always travelled with his home on his back and travelling around the UK or Europe in a retro VW Campervan is pretty much the same but with more room for you and your family!
You have the freedom to travel where ever you wish, maybe booking into a favourite campsite or seeing what turns up en route.  If your Camper Van is equipped with everything that you could possibly require for your holiday apart from the ideal weather then what are you waiting for?
The Team at
CampinaVDub
make it easy for you to simply turn up with your bag and head off on your adventure.  Their fleet of three retro VW Campervans come equipped with bedding, towels, a drive away awning, table and chairs and satellite navigation to help with the map reading, as well as enough kitchen equipment for six people.
The majority of other camper van hire companies will charge you for these inclusive extras, which makes CampinaVDub at least £120 cheaper per week hired than their competitors. 
The campervans have a heating system that will also heat the awning to cope with the point in the evening when it may be a little cooler and the dew starts falling over you.  The heating makes non-summer holidays brilliant and you can get some great days in October and November when the roads are a little quieter and the children are at school and also a great time for nipping into a theme park like Chessington World of Adventure, Thorpe Park or Alton Towers maybe.
Two of the Campervans in their fleet are dog friendly so why not bring along your furry friend on the journey.  They will love being let out of the Camper early in the morning to surprise the Rabbits and Birds and playing with the Ducks in the local stream – woof!
Start planning your trip away buy checking the campervan availability at CampinaVDub.co.uk and leave the rest to their Team.  Remember that the campervan has a sink so don't pack one J
Picture Source – Martin Wiscombe