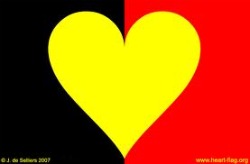 Belgium's Pukkelpop music festival was officially cancelled today after at least five people died and up to 100 were seriously injured when two stages collapsed during a heavy storm.  Retro VW Campervan 'Wilf' from CampinaVDub is at the music festival with clients.
The tragedy follows similar ones at other outdoor pop concerts, putting the entire future of such events in doubt.  Organisers of Pukkelpop - which attracts some 180,000 people including many young Britons - said they were 'deeply moved' by what had happened and could not carry on.
Thursday's disaster saw the vast Chateau stage come down after uprooted trees fell on it, and a second stage was also severely damaged by trees. 
It meant that the event, which started in 1985 near the Belgium town of Hasselt, was halted.
The organisers of Pukkelpop web site reads - 'Pukkelpop is in deep mourning. We feel much sympathy to the families and friends of the victims. Words can not describe. We can therefore not easy to reconcile the festival continue to take place. Therefore, we decided to Pukkelpop 2011 for the rest of the weekend to stop.'
Having spoken to our Clients in Wilf - they are all fine and so is Wilf.  They have headed off to Amsterdam to continue with their holiday plans. 
Read more - The Daily Mail
Read more - Pukkelpop Music Festival