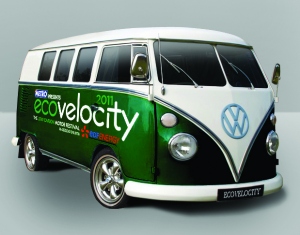 The team behind the EcoVelocity show (September 8th-11th, Battersea Power Station) has 'future-proofed' a couple of classic project cars by retro-fitting them with new energy-saving technology.
This early split-screen Volkswagen Microbus has had its original flat-four petrol engine replaced with a modern-day VW 1.6 TDI 90 diesel, and gained thermal management tech, a hybrid system (reducing carbon dioxide emissions by up to 25%), stop-start (a 5% CO2 reduction) and exhaust gas recirculation. It's also benefiting from the addition of ABS anti-lock brakes and ESP (stability control). A Ford Escort RS2000 has been similarly modified (with a Ford 1.6 petrol engine).
EcoVelocity founder and organiser Giles Brown (a former colleague of mine – go Giles!) says: "Both of these vehicles, although iconic in their own right, had monstrous CO2 emission figures by today's standards. With a potential price tag of tens of thousands of pounds to undertake all this work, you'd have to be very serious indeed about going green. But what we want to show is how it is possible to make both cars eligible for free road tax (VED Band A), increase their performance and even enhance their safety features.  
"People perceive that being environmentally sympathetic must mean switching to battery electric power or full hybrid cars. But EcoVelocity is about all means of 'going green' and this experiment shows that, with the right application of technology, the good old combustion engine has a good 20 years left in it yet." More at EcoVelocity's blog.
Source - Driving of The Future