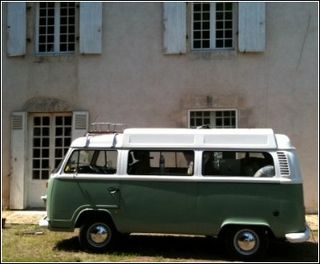 This past weekend, putting one of their fleet of retro VW Campervans to good use, the CampinaVDub Team took campervan 'Daisy' down to middle France to catch up with some friends who have a house there.
After some pre arranged camper hire hand-overs on Friday, we caught the SeaFrance Ferry from Dover to Calais and upon arrival, took to the open roads in France. 
The plan was to avoid the motorway network and explore some of the French villages en route. 
We found a great campsite, arriving a little late in the evening and enjoyed a relaxing glass or two whilst Daisy the camper van rested too after her big journey.  The campsite was clean and friendly, with electric plug in with all the correct attachment in the VW Camper to hook up to the electricity supply. 
The next day, it was off on our journey, this time taking the motorway to gain some time.  What we discovered was that the VW Camper likes to be driven around 100 KPH rather than the permitted 130 KPH that the cars can do.  We lost around 25 KPH per hour and arrived after 8 hours at our friends a little tired and hot after a warm day travelling.  Note to self, allow more time to get from A to B as Campervans are a little slower than fast cars :-)
During our trip, we became the big tourist attraction, also waving to a few VW Campervans we met en-route, although we expected to meet and see more.  There were a lot of T4 and T5 campers who waved at us and one or two T2 and one Splitty. 
We had a great time and will definitely do it again.  Four days was just not long enough to visit everyone we know living in France.
Why not have as much fun as we did and book a VW Campervan for a trip to France, Germany or Belgium.  We offer some free kilometres to get you going and everything else in the VW Camper to ensure you have a great holiday.  You will need to arrange via us Europe AA Cover and additional insurance to cover your trip but after all, great value for money with everything generally included like awning, bedding and towels and bike rack.