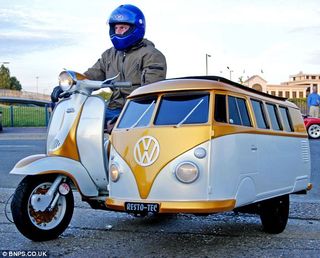 One scooter enthusiast's boy can boast the hippest ride after his dad pimped his sidecar to look like a classic Volkswagen Camper.
The custom-built accessory was created by Jay Dyer, 44, for his 11-year-old son Kaine to sit in while they drive around the country.   After buying the 'skin' in Belgium, Mr Dwyer spent seven months welding and painting the one-of-a-kind modification in his back garden.
He then had to make sure the lights on the camper van worked before fitting it to the 1961 Lambretta.