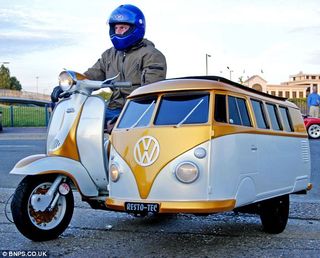 One scooter enthusiast's boy can boast the hippest ride after his dad pimped his sidecar to look like a classic Volkswagen Camper.
The custom-built accessory was created by Jay Dyer, 44, for his 11-year-old son Kaine to sit in while they drive around the country.   After buying the 'skin' in Belgium, Mr Dwyer spent seven months welding and painting the one-of-a-kind modification in his back garden.
He then had to make sure the lights on the camper van worked before fitting it to the 1961 Lambretta.
Now the father of two, from Northwood, Middlesex, is continually stopped while driving by people desperate to have their photo taken with it.
Read more: The Daily Mail
If you would like to plan a trip away in a retro VW Campervan, take a look at the www.campinaVDub.co.uk camper van hire company based in Surrey.