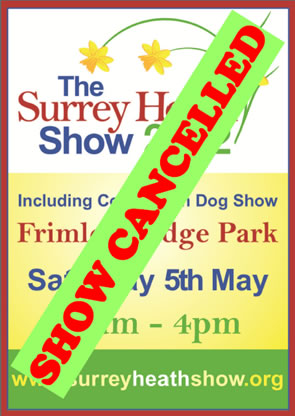 One of the more local traditional May Day Fairs has been cancelled due to the persistent rainfall - not bad for a drought!   
Sadly, it will not be the only event to be cancelled this weekend, all victims of the wet weather.
The CampinaVDub Team were due to be at the Surrey Heath Show with one of their retro VW Campervans so that local residents could find out a little bit more about taking one of the Campervans for a holiday.  The other two VW Campervans are out at the weekend with Clients and we had held one back to attend the show.
On Monday 7th May 2012, we are planning to be at the Chobham Carnival, to be held in Station Road, Chobham.... fingers crossed so if you come along, you will see us inaction and one of the VDubs too!  If you are local to our base, you will find out advertisement in the Three Villages Directory.
May Day is traditionally celebrated on the first Monday of May when local villages take to the local green and have fun and games and local businesses sell their produce.  Traditional British May Day rites and celebrations include Morris Dancing crowning a May Queen (or maybe a Camper Queen) and celebrations involving a Maypole.  May Day has been a traditional day of festivities throughout the centuries. 
May Day is most associated with towns and villages celebrating springtime fertility and revelry with village fetes and community gatherings.  Since the reform of the Catholic Calendar, May 1st is the Feast of St Joseph the Worker, the patron saint of workers.  Seeding has been completed by this date and it was convenient to give farm labourers a day off.  Other European Countries celebrate May 1st as a holiday, calling it Labour Day.  In England, we always take the first Monday of May off instead of the 1st.
The following message is typical of many an event organiser taking a long term view of the weekend's weather forecast  'With regret the Surrey Heath Show has been cancelled this year due to the site being waterlogged.  Unfortunately the ground is too wet for any vehicles to be on site.  As you can imagine we are deeply disappointed as no doubt you will be.  I am sure you appreciate a great deal of time has been spent arranging the event only to be thwarted by the weather.  We appreciate your support and trust that we will have another successful year next year.'  It's a shame because events such as this are mainly organised by an army of volunteers, only to be bowled over when the event is cancelled for no fault of their own.
So if you need something to fill an hour or two, take a look at the availability of a VW Campervan for another weekend or even a week.  It's all inclusive except bedding and towels and a few glam extras.  More details about the Retro VW Campervans on their web site!